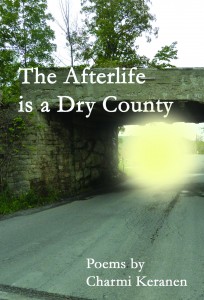 Buy now from Big Wonderful Press
Praise for The Afterlife is a Dry County
"What a subtle but bracing joy Charmi Keranen's THE AFTERLIFE IS A DRY COUNTY is. In poems such as "The South Shore", transcendence emerges out of some paradoxically laid back determination to limn new realities using the particulars of place and mind in order to articulate a unique musicality, a powerful metaphor for the self. Which is to say the poems are sensual, deeply imagined, and visceral. They're also historical, metaphysical, and funny as hell. But Keranen's book is also a package full of things, constructions simultaneously so wholly "graspable" and disjunctive it feels as if a bell has been rung in the reader's consciousness as he drifts toward the wide open water inside the wake of each poem's lingering and mysterious shadow. One's not sure HOW she pulls so many disparate elements together in such a small space of page and to such startling effect, but it is a pleasure to read, and I know I am richer for it."
-David Dodd Lee, author of The Nervous Filaments, Sky Booths in the Breath Somewhere: The Ashbery Erasure Poems, and Orphan, Indiana.
"In THE AFTERLIFE IS A DRY COUNTY, the world undergoes multiple transformations and evolutions. "It's slow going//waiting for the rock/to become a fish," Keranen writes. All the living things that appear here—hummingbirds, centipedes, owls, spiders, deer flies, egrets—exist next to man's language, also alive and morphing. It's as if time, too, has compressed her poetic line, and we read this collection, with all its white space—its absence—acutely aware of the "weight of language."
-Nancy Botkin, author of Parts That Were Once Whole and Bent Elbow and Distance
Charmi Keranen holds a BA in English from Indiana University South Bend. Her poetry has appeared in Passages North, The Salt River Review, JMWW, Stirring, blossombones, elimae, The Dirty Napkin, Ouroboros Review, Sugar House Review, Inter|rupture, Grasslimb Journal and Hot Metal Bridge. She and her husband live in Northern Indiana, where she works as a freelance writer and proofreader of court transcripts.
Purchase the Kindle version here: Kindle: The Afterlife is a Dry County